Other than today, I don't think I've ever done a blog post about my fitness efforts.  That is mostly due to the fact that I exercise intermittently.  But ever hopeful, I have committed myself to running in the cold weather.  I like to run outside, but that was a spring/summer/fall occurrence.  If the temperature fell below 50 degrees, you could find me inside, thanks.  On the couch.
So, I mentioned earlier today that I enjoyed jogging in the cold.  I hate the cold, but the air is very easy to breathe.  It's crisp and it feels good taking deep breaths.  It wakes me up, take that caffeine.  Also, I am not prone to slow down my running to walking because it's really cold when you walk.  So, I keep running to keep myself warm and toasty.  I ran for an hour yesterday and again today.  I ran the whole time, except for a brisk pace walk to warm up and cool down.  It also helps dramatically to have cold weather running gear.  I cannot stress this enough, because it would be over before it began if I was uncomfortable and freezing.
Here's what's been helpful for me.  I started off getting fitted for sneakers at my local running shop.   Not a generic sports goods chain, but a store dedicated for runners run by people who actually run.  A lot.  So they know what the hell they're talking about.  I got fitted and was shocked that my feet grew 2 whole half sizes (from a 7.5 to 8.5!).  No wonder my big toenail fell off in my last pair of sneakers this past summer.
Okay, onto the running clothes and accessories (you know I had to mention these in this blog).
Nike Dri-Fit Soft Hand Women's Hoodie in Night Blue/Obsidian.  I love this top because it's very soft next to your skin and it has the cuffins (where it folds over your hands to keep them warm) and thumbholes on the end of the sleeves (so they stay put).  Also there is a ponytail hole in the hood.  It's a nice warm layer under my running jackets.  I also love the retro baseball/concert t-shirt look to it (the colorblocking of my childhood).
Moving Comfort Sprint Jacket in Charcoal Heather.  I never heard of Moving Comfort before, but the saleswoman at the running store told me it's women only clothing company that puts out great running apparel.  I loved this jacket.  It's super light yet warm and it's water/wind resistant.  Since it was in the upper 30's when I ran today, I was pleasantly surprised this kept the chill away.
Lululemon Define Jacket in Black.  I friggin' love this jacket.  It is very flattering to my figure, but more importantly, it moves with you without constricting you.  Thumbholes and cuffins, your BFF's when it's chilly.  Also, I appreciated the high neck line because I don't need a separate item to cover my throat.  The zippers are hard-core.  The fit is AMAZING.  I would wear this for casual outfits when not exercising.  Don't worry, I won't wear this while walking in the Whole Foods parking lot, towards my Prius, while holding a Starbucks coffee.  haha
I'm relatively new to LLL, I resisted for years.  I thought who in the hell would pay $90 for leggings that you sweat in?  But I buckled and I'm so glad I did.  Their line of clothing is functional yet very flattering to your figure.  I only have a few pieces and it's hard not to get addicted to this stuff.  I love every single LLL item I've purchased.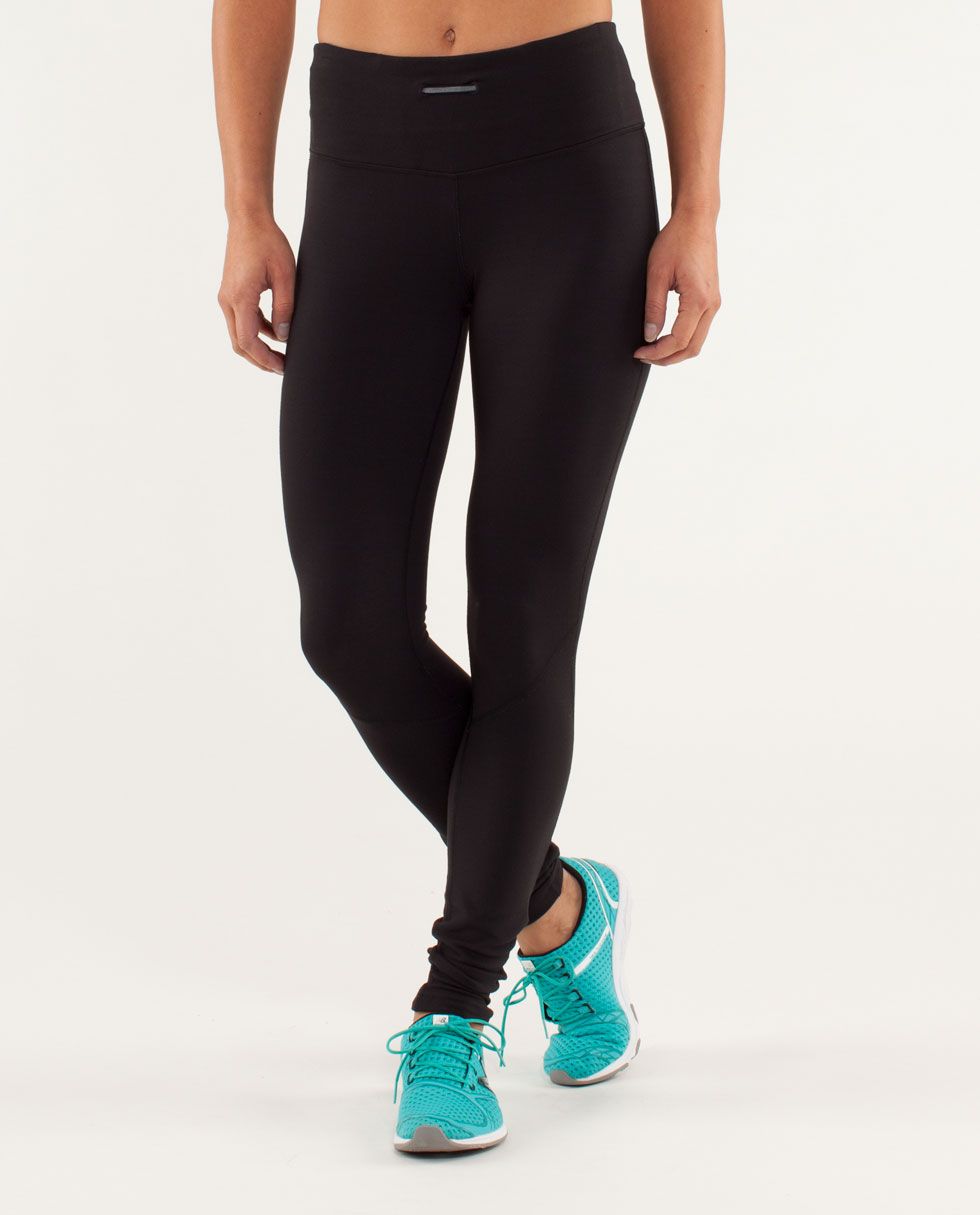 Lululemon Runder Under Pant in Black.  Not sure if these are reversible, but there is a grey lining inside so it feels/looks like it's 2 layers.  These leggings are the first pair where I don't hate on my body.  There's no muffin top and it feels compression-ish, although it's not a compression running pant.  They are warm and according to my husband, makes my butt look perky.  Uh, I'll take it.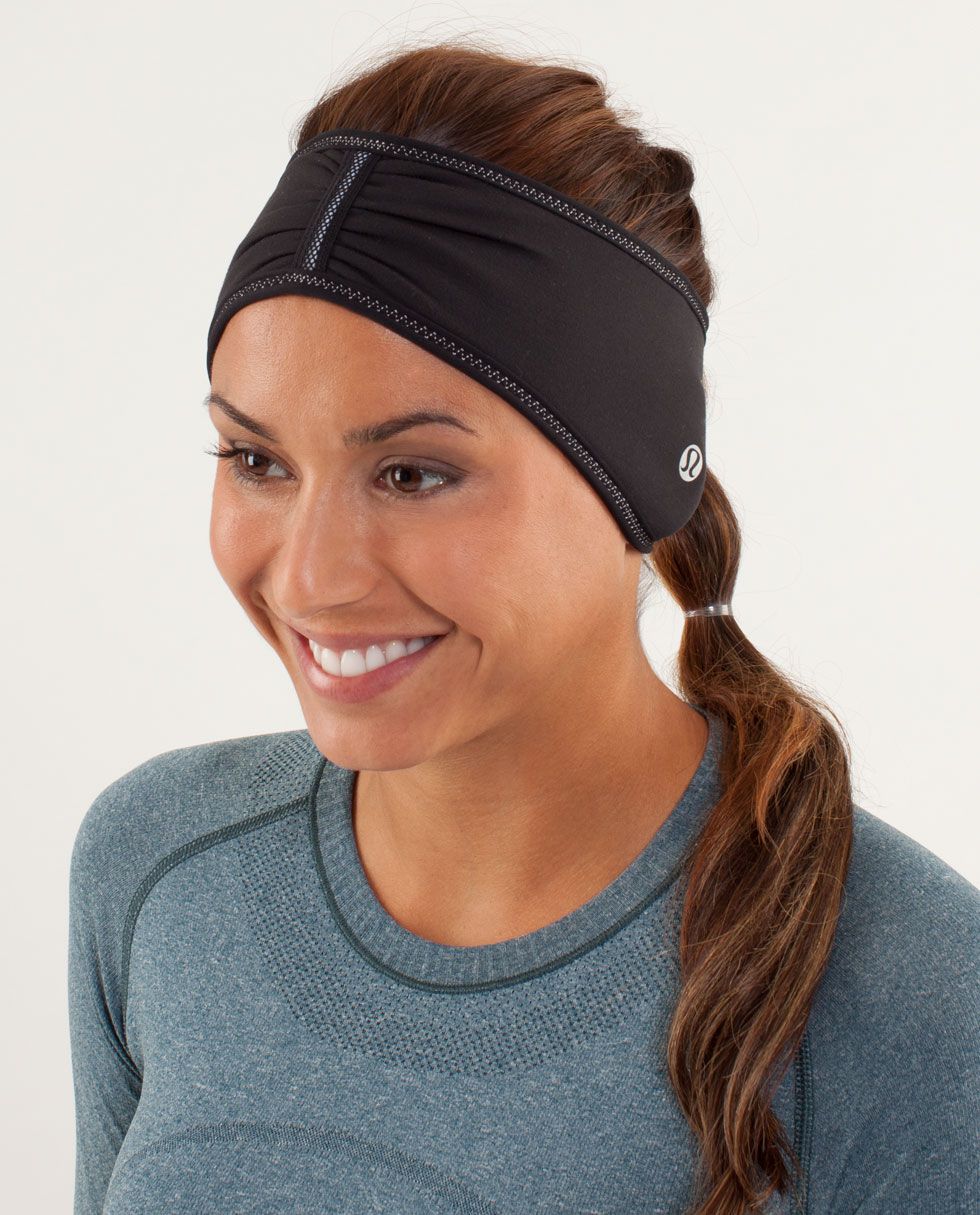 Lululemon Brisk Run Headband in Black.  Lifesaver.  No more icy ears and earaches from the wind.  I have a big head so this fits and stays put.  Very comfortable with my earphones underneath.  I also learned that you should place your ponytail above the band in the back of your head.  My hair poufed out when I did it under, not a good look.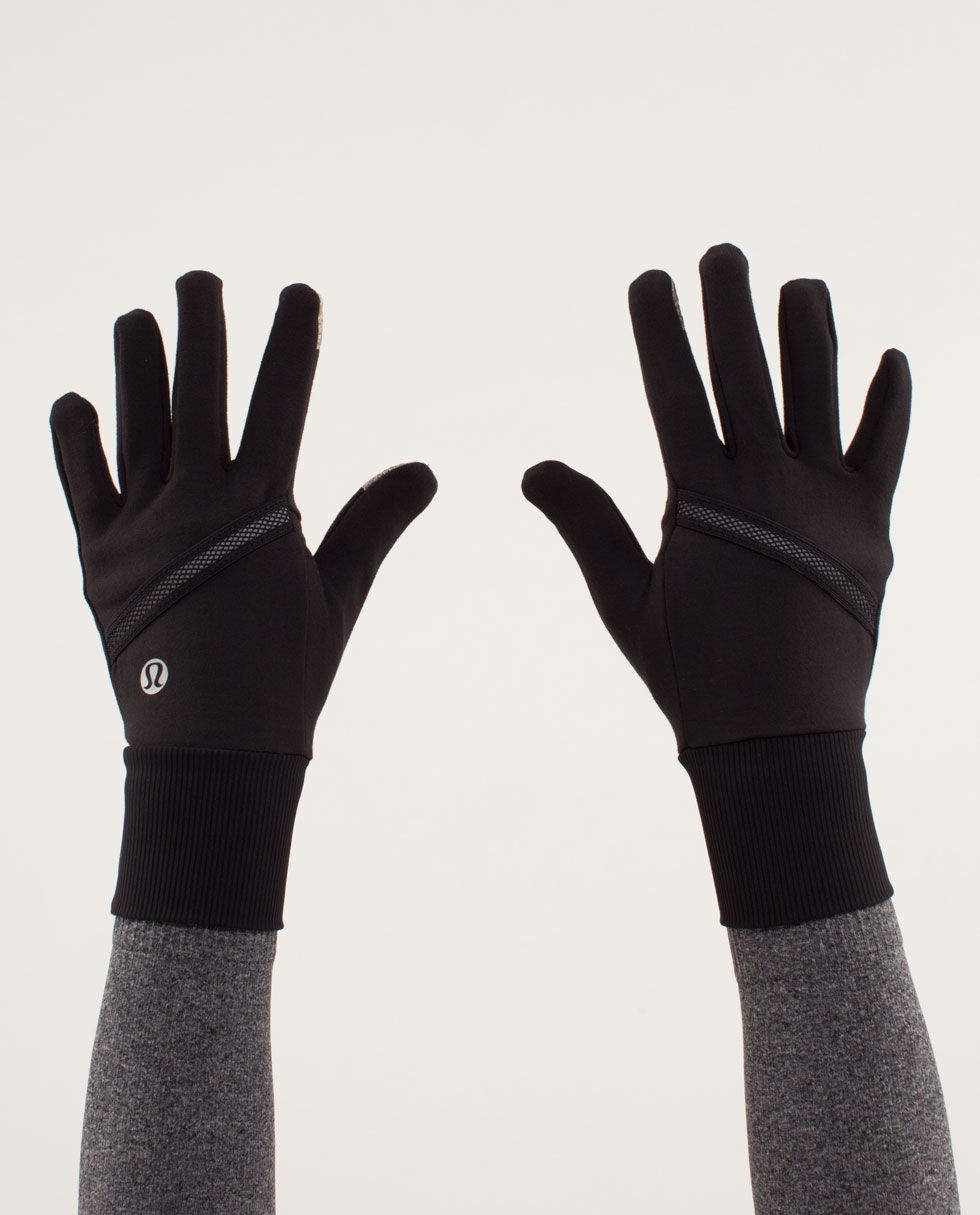 Lululemon Brisk Run Gloves in Black.  Lifesaver #2.  These are light, yet warm.  And it's touchscreen friendly.  The thumb and index finger tips really worked well on my iPhone.  I may use these gloves to drive or for everything.  No more frigid fingers and worse yet, dry skin that bleeds cause it cracks open.
WrightSock Cool Mesh socks in White.  Best running socks ever.  They are double-layered and prevent blisters.  They are what they puport to be.  Plus, they are thin.  I used to buy these thick cotton ball looking socks in a pathetic attempt to avoid blisters.  With my too-small sneakers.  Yeah, no.  Bad idea.  They are kind of pricey, but to be blister-free and to keep all of your toenails are priceless qualities.  These socks are so worth it.
Asics Thermopolis running tights.  These are so soft on the inside but it's not bulky at all.  They keep you warm and toasty and are a little warmer than my LLL Runder Under pants.  The length is perfect and there is a little pocket for your key.  The waistband is not as flattering as the LLL Runder Under pants, but I don't tuck in my shirt anyway so it's covered.
I know it's a departure to discuss exercise on here, but I hope you liked it.  I may write more posts about my progress (optimist, here).  In the meantime, here are a few pictures of the sights I saw while running during the dusk.  I found a great running route on a river.  So pretty and away from the automobile traffic/exhaust fumes.  Enjoy!